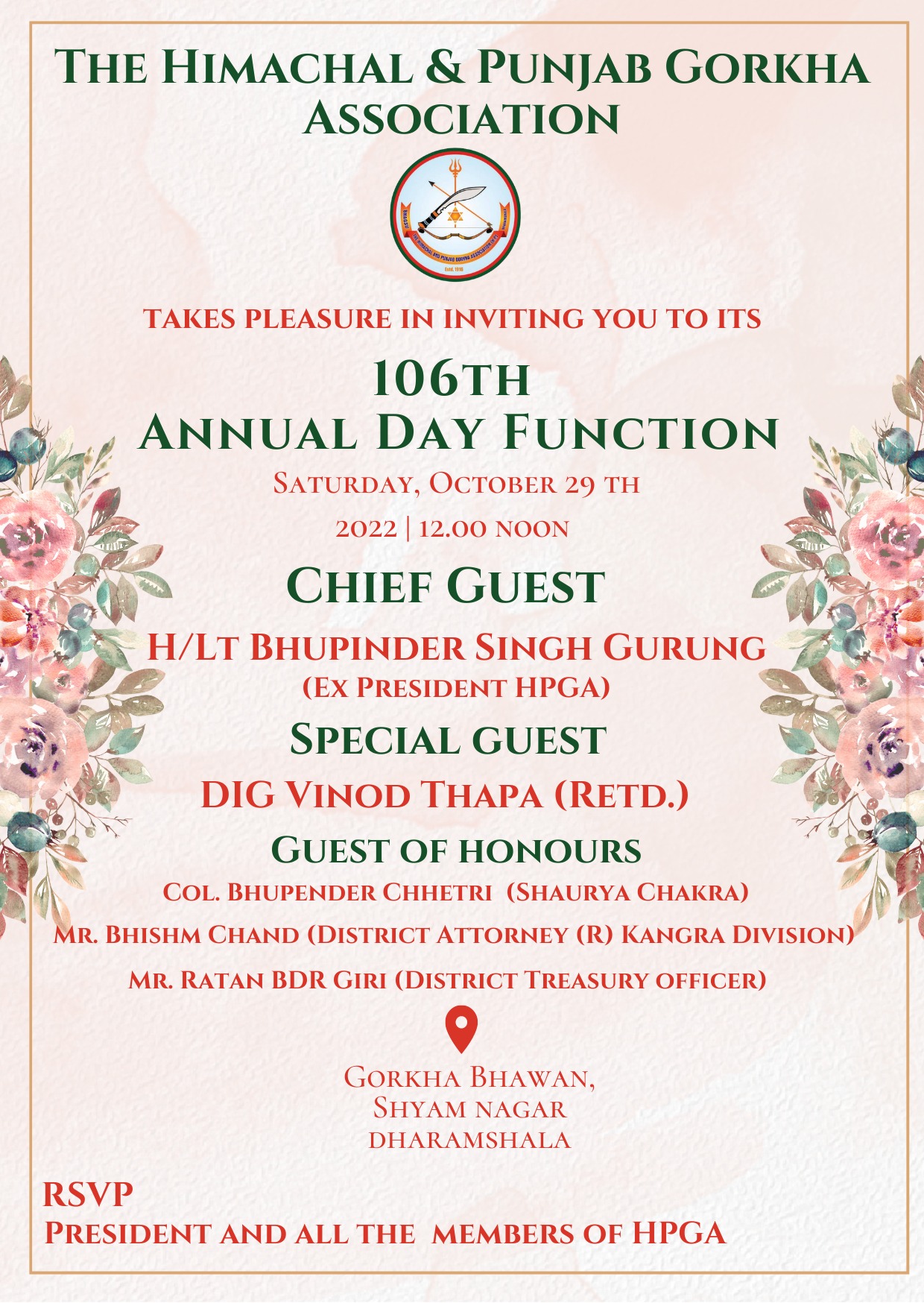 106th Annual Day Function of The Himachal & Punjab Gorkha Association, Bhagsu. Dharamshala, Himachal Pradesh
46
46 people viewed this event.
We are pleased to inform you all that on the occasion of 106th Annual Day Function of Himachal & Punjab Gorkha Association, Dharamshala we are going to organise Quiz Contest on 28th Oct 22 at 10am sharp at Gorkha Bhawan. Col Bal Ram Shah will be Chief Guest and Col Krishan will join as Special Guest as well as Head of Quiz Contest. All school and College going students with their parents or Grand parents are cordially invited to witness this Quiz competition. Stalls are also being arranged like Momos, Non veg items, tea, coffee, Biryani etc for two days i.e. 28 & 29 Oct 22. In this process, we have already organised Declamation contest on 23rd Oct22.
You are again warmly invited to celebrate 106th Annual Day Function on 29Oct22 at Gorkha Bhawan /Bhagsu Sadan at 12 noon.
Our Executive Body have decided H/Lt Bhupinder Singh Gurung Ex President of HPGA to be our Chief Guest and DIG Vinod Thapa will be Special Guest. On this auspicious day, we have three Guest of Honours.
Col Bhupender Chhetri (Shaurya Chakra), Sh. Bhishm Chand Distt. Attorney(R) Kangra Division and Sh Ratan Bdr Giri DTO HAS Allied.
We are going to honour our Six Veterans aged above 90yrs. Other attractions are Cultural programmes from different villages including Palampur, speech of Winners of Declamation contest, awarding Quiz contest winners, etc.
Last but not the least the Lucky Draw at 4pm. Kindly join all to celebrate this great historical day.
With warm Regards
Additional Details
Event Organizer Company - Himachal Punjab Gorkha Association, Bhagsu
Event Contact person name - Shri Ravinder Rana Ji
Mobile number - 9418030256
Event organized by - Himachal Punjab Gorkha Association, Bhagsu